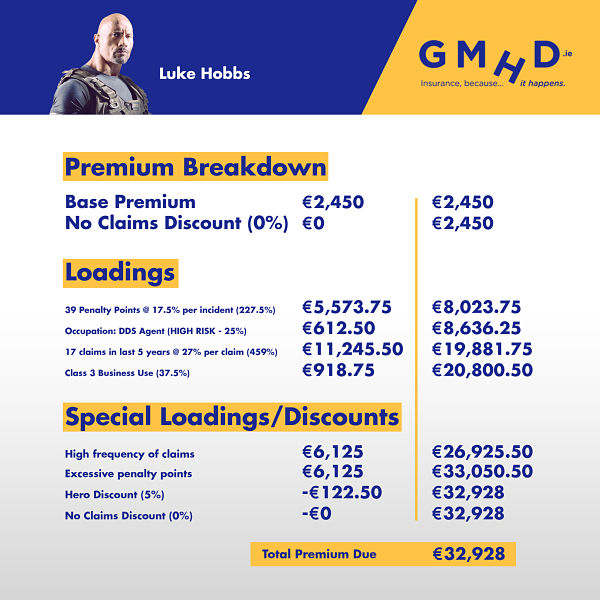 THE FAST & THE CURIOUS: HOW MUCH WOULD IT COST TO INSURE LUKE HOBBS ON IRISH ROADS?
Broker estimates the cost of insuring the character on 2015 Ford Focus at almost €33k
Hobbs was involved in 28 accidents throughout the series
Based on his driving in the series he would be on the receiving end of 39 penalty points in Ireland
With Hobbs & Shaw, the latest movie in the Fast & Furious franchise, tearing it up at the box office, one of Ireland's largest insurance brokers GMIB.ie has determined that The Rock's character Luke Hobbs would be subject to an annual premium of €32,928 to be insured on Irish roads.
The whopping figure was derived based on a 2015 Ford Focus (costing €15,000) and took into account Hobbs' reckless driving in the films (info below).
The Kerry based broker trawled through all five films in the franchise involving Hobbs, noting all relevant information that would be considered when quoting a customer for their annual premium.
During this process they found that Hobbs had in that time been involved in nine traffic violations, 26 accidents and written off two vehicles.
Despite his heroics it's unlikely that the Diplomatic Security Service agent would remain on Irish roads as such bravado behind the wheel would result in him totting up an extraordinary 39 penalty points. This led to the hulking hero receiving a number of loadings on his policy.
"Luke Hobbs' driving may have helped him save the world but it certainly won't help him save on his car insurance," said GMIB.ie Director Simon Gallivan. "No two customers are the same and while this is probably a write-off when it comes to insuring him, we'll always do our best for every customer who contacts us for a quote."
About GMIB.ie
GMIB.ie is one of Ireland's largest insurance brokers. We compare quotes from over 20 different providers to find you low cost car, van, home and commercial insurance. Get a Quick Quote online in 60 seconds and we'll take care of the rest.